Weekly Market Commentary - February 9th, 2023
The Markets
What do Mark Twain and the current economic expansion have in common?
Author and humorist Twain was prematurely reported to be dead. It first happened in 1897. Twain was on a speaking tour in London when rumours that he had fallen ill and died began to circulate. Then, about a decade later, The New York Times reported that a yacht Twain was on had sunk.
Ben Welter of the StarTribune wrote that Twain responded to the latter story by saying, "I sincerely hope that the report is not true and I suggest that all my friends suspend judgment until such time as I can ascertain the true state of affairs."
There has been a lot of speculation about the death of the current economic expansion, too. In the United States, the Federal Reserve, like many other central banks including our own, increased rates at an unprecedented pace in 2022 to slow economic growth and price increases. Economists, business leaders, and even Fed officials have indicated that a recession – a period of economic contraction – may be ahead, and the situation isn't much different here in Canada.
Last week's economic data suggests that reports about the death of economic growth may have been exaggerated. The Bureau of Labor Statistics reported that more than 500,000 American jobs were created in January – about twice as many as economists expected. Here in Canada, January data has yet to be released, but December was very positive, with over 100,000 jobs created, most of them full-time.
In addition, last week the International Monetary Fund raised its growth forecast for 2023. The global economy is expected to expand by 2.9 percent this year, largely due to resilient demand in the United States, falling energy costs in Europe, and the reopening of China's economy.
While the outlook for the economy appears to have improved, the outlook for company earnings remains mixed. About half of the companies in the S&P 500 Index have reported fourth quarter results so far and earnings are down 5.3 percent, year-over-year. "Looking ahead, analysts expect earnings declines for the first half of 2023, but earnings growth for the second half of 2023," reported John Butters of FactSet.
Major North American stock indices delivered mixed results last week. The S&P/TSX Composite, S&P 500 and Nasdaq Composite Indexes moved higher, while the Dow Jones Industrial Average finished slightly lower. U.S. Treasury yields moved lower for much of last week before bouncing higher after the strong jobs report. Canadian Treasury bill and government bond yields moved higher, with the exception of the 3-month Treasury yield, which experienced a miniscule decline.
If you have any questions or concerns regarding your investment portfolio or recent market events, please don't hesitate to get in touch.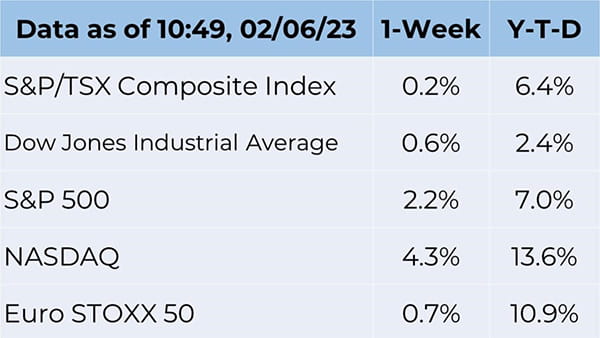 Source: FactSet
---
Upcoming Events:
Gardening Workshop - March 9th
Significant New Trends and New Plants in 2023 - Brian Minter
Estate Planning - April 2023
Effective Estate Planning - Raymond James Trust
Fundraiser: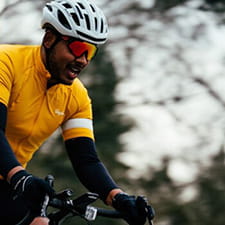 ---
Weekly Focus – Think About It
"Live as if you were to die tomorrow. Learn as if you were to live forever."
—Mahatma Gandhi, political and spiritual leader
Eric Muir
B.Comm (Hons. Finance), CIM®, FCSI
Senior Portfolio Manager
Derek Lacroix
BBA, CIM®, CFP®
Associate Portfolio Manager