Weekly Market Commentary - February 16th, 2023
The Markets
This time may be different...or it may not be.
There has been a lot of speculation about how central policies will affect the economy. Economists have differing opinions about whether we are headed for:
• A recession, which occurs when the economy stops growing and begins to contract; or
• A soft landing, which occurs when economic growth slows but does not decline.
It's an important question because recessions often are accompanied by layoffs, rising unemployment rates, dwindling investor confidence, lower consumer spending, and stock market downturns.
Recently, a new theory bubbled up in the United States.
The U.S. may be experiencing rolling recessions, reported Rich Miller of Bloomberg. "Now there's a new economic meme making the rounds. It's called a rolling recession, and it's a bit of a hybrid. One industry suffers a contraction, then another, but the economy as a whole never swoons, and the job market largely holds up…That framework doesn't explain everything that's going on with this puzzling post-pandemic economy, but it's as good a description as any of what the U.S. has been going through since the Federal Reserve began lifting interest rates from zero in March of last year."
Uncertainty around current economic conditions has a lot to do with the pandemic, according to Schwab's chief investment strategist, Liz Ann Sonders. When lockdowns ended, the demand for goods lifted prices and helped push inflation higher. When services became available again, demand shifted and we saw "pockets of weakness in many categories on the goods side, certainly in housing, that are definitely in recession territory."
If these "rolling recessions" don't meld into a recession, we could see continued economic expansion as inflation moves lower. It's also possible that we could see economic growth heat up and inflation remain at higher levels than we've become accustomed to having. It's just too early to tell.
Major North American stock indices moved lower last week. Treasury yields rose across maturities last week as economic data and central bank officials suggested that further rate hikes may be ahead.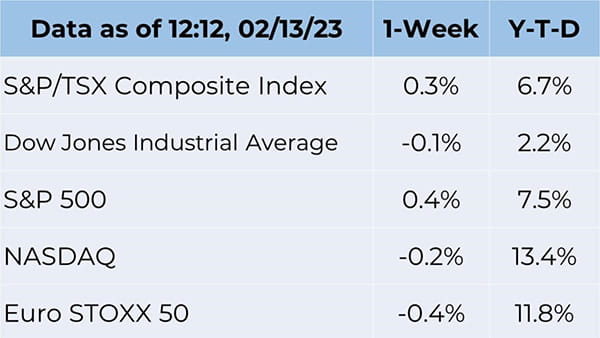 Source: FactSet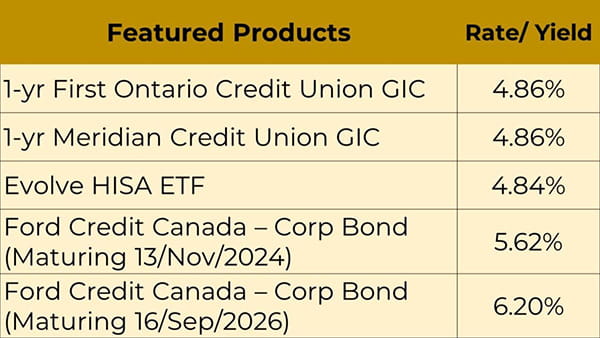 ---
Upcoming Events:
Gardening Workshop - March 9th
Significant New Trends and New Plants in 2023 - Brian Minter
Estate Planning - April 2023
Effective Estate Planning - Raymond James Trust
Fundraiser: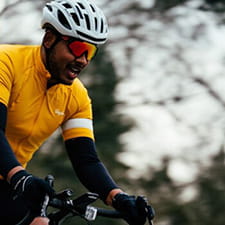 ---
Asset or liability?
When companies total up assets and liabilities for accounting purposes, employees aren't counted as assets. It's a peculiarity that has significant repercussions and the potential to negatively affect both employees and shareholders, suggested Wharton professor Peter Cappelli in the Harvard Business Review.
"Many common practices for managing employees are hard to explain," he wrote. "Why do companies obsess over cost per hire but spend so little time trying to see if they make good hires? Why do they provide so little training when we know it improves performance and many candidates say they'd take a pay cut to get it? Why do firms delay filling vacancies and let work go undone? Why do they spend so much money leasing personnel from vendors rather than hiring their own?"
Cappelli contends the problem is rooted in the standards set by the Financial Accounting Standards Boards (FASB) in the United States. While many companies assert that employees are their most significant competitive advantage, that belief is not reflected in generally accepted accounting principles for publicly traded companies. FASB-established standards don't count spending on employees – such as wages, salaries, training and development, and benefits – as investments. Instead, those expenditures are treated as expenses and liabilities.
"…accounting rules say that items with value are assets—but only if they're owned by the company. On that basis, employees are not considered assets—even though the tenure of a valuable employee is often far longer than the life of any piece of capital equipment. Even when a company buys other businesses to get access to their skilled employees, the acquisition of talent cannot be treated as an investment."
Under current accounting standards, layoffs are one way for employers to rapidly lower costs and make balance sheets look more attractive. The loss of knowledge, skills, and abilities that accompanies layoffs doesn't factor into financial accounting, even though it may negatively affect company productivity.
While accounting standards have yet to change, companies' thinking may be. In a Bloomberg opinion titled, 'U.S. Companies Aren't Firing People As They Usually Do', Kathryn A. Edwards wrote, "…the trade-off between short-term cost-cutting and human capital appears to [be] changing as qualified workers become harder to find and hire."
Weekly Focus – Think About It
"Everyone talks about building a relationship with your customer. I think you build one with your employees first."
—Angela Ahrendts, businessperson
Eric Muir
B.Comm (Hons. Finance), CIM®, FCSI
Senior Portfolio Manager
Derek Lacroix
BBA, CIM®, CFP®
Associate Portfolio Manager