Community
Involvement
The idea of putting others first comes naturally to us, from our clients to our neighbours—it's the right thing to do. You'll find us giving back in countless ways, rolling up our sleeves and pitching in to support the organizations that help this community thrive. We invite you to learn more about the educational, civic, social and philanthropic endeavors we support with our time, energy and expertise. If you'd like to be involved, please feel free to contact us to learn more about upcoming events.
"I'm very proud of the people of Raymond James and how we give back to our communities. And through the services of the Raymond James Canada Foundation we can also help our clients to turn their charitable giving into strategic philanthropy. We are very excited to be able to help Canadians in this way," says Paul Allison, Chairman and CEO, Raymond James Ltd.
---

Hope International
Click on picture for more info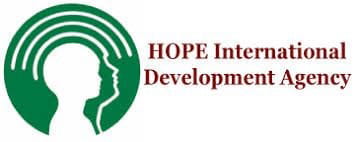 Over the years, the Muir Investment Team has been involved in many different fundraising campaigns for HOPE International, bringing hope to people in need all over the world. HOPE International Development Agency is a non-profit, international development agency based in New Westminster, BC. Its aim is to offer hope to the poverty-stricken and hungry—those whose present circumstances offer them none.
From matching our clients' donations, making Christmas gift donations on their behalf, and supporting HOPE International at their annual fundraising dinners, we participate together to join HOPE's vision of mobilizing resources and connecting donors, volunteers and teams here in Canada with opportunities to fuel lasting change around the world.
---

2022 Manulife Heart & Stroke Ride for Heart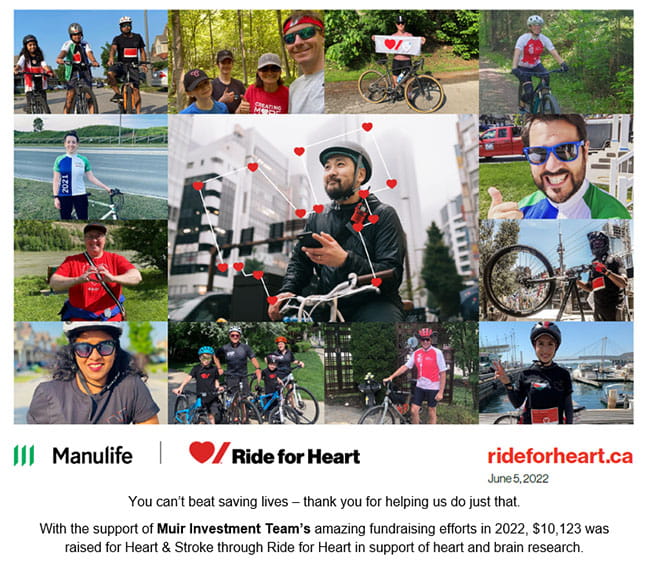 In spring of 2022, we began fundraising for the 2022 Manulife Heart & Stroke Ride for Heart—riding, running or walking a heart-shaped route in support of critical heart disease and stroke research. Every five minutes, someone in this country dies from heart disease, stroke, and related conditions. We are happy to say we raised $5,000 to support this cause! In addition to this, the Raymond James Foundation Canada matched our donation with another $5,000 bringing the total to $10,000!
---

Cystic Fibrosis Canada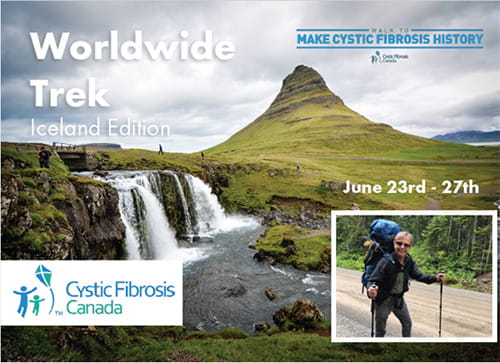 In June 2021, Eric took on the challenge of trekking across the Southern Highlands through one of the most active volcanic areas in Iceland in support of Cystic Fibrosis Canada. The funds raised will be used to target world-class research and supporting and advocating for high-quality individualized Cystic Fibrosis care.
---

Drug Free Kids Canada
Click on picture for more info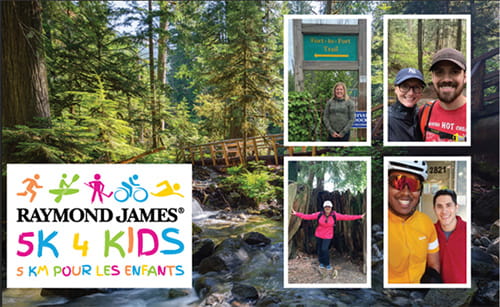 In May 2021, despite being physically apart (COVID-19), the Muir Investment Team found creative ways to work together to raise funds and awareness for Drugs Free Kids Canada. Nationwide, our Raymond James Ltd. colleagues completed 5K in any way—running, hiking, cycling, and walking—to raise funds and awareness for Drug Free Kids Canada. The RJ 5K 4 Kids was our opportunity to safely work together towards a common goal of taking care of our physical and mental health and making a difference for Canadian Families. Through socially distanced activities, donation drives, and individual acts of kindness, Raymond James Ltd. was able to collectively raise $295,000!
---

Local Women's Shelter in Burnaby
Click on picture for more info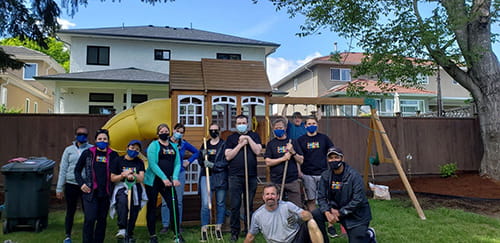 In May 2021, we returned to a local women's shelter to volunteer in assisting them with yardwork and join them in their mission to provide help and resources for women and children in the community.
Click on picture for more info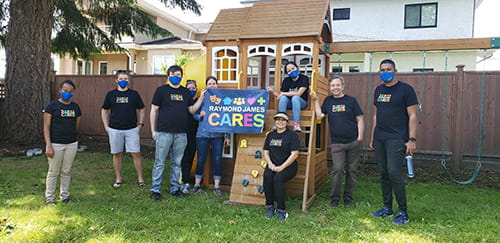 In June 2020, we had the opportunity of volunteering at a women's shelter in our local community operated by the Christian Advocacy Society of Greater Vancouver. We were able to take care of gardening as well as exterior cleaning of this shelter that cares for women in distress.
---

BC SPCA Paws for a Cause
Click on picture for more info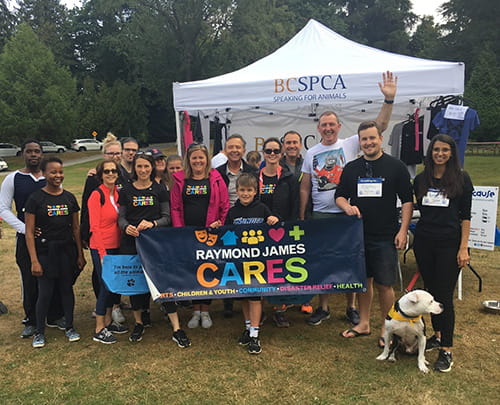 Thank you for your support! In September 2019, we raised $4,460 in donations to fight animal cruelty at the Paws for a Cause Walk. In addition, we received $3,000 from the Raymond James Canada Foundation, making our total donations $7,460! Animals are the most loyal and loving creatures, yet they are also the most vulnerable. Thank you for partnering with us to fight animal cruelty.
---

Alzheimer's Society of BC
Click on picture for more info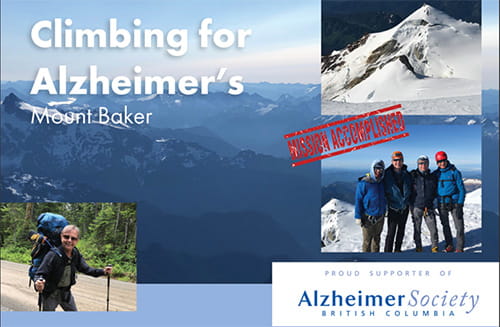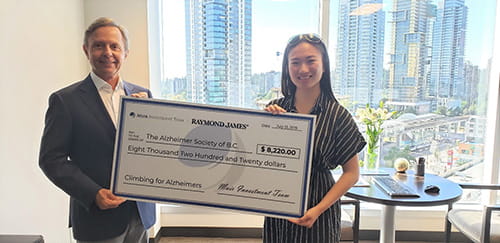 Over the July long weekend in 2019, Eric took part in the Climb for Alzheimer's—Mount Baker event. Mount Baker is the third highest summit in the State of Washington, USA, with an elevation of 10,778 ft. In tackling this climb, he raised funds for the Alzheimer Society of B.C. which works to ensure that British Columbians affected by the disease have access to support, education and information at any stage of the journey.
---

Dixon Transition Society
Click on picture for more info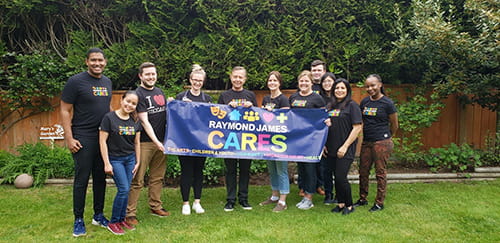 In May 2019, we had the privilege as a team to partner with the Dixon Transition Society to improve their facilities so they can better serve the community.
Dixon Transition Society helps to reduce the impact of domestic violence by providing a safe haven for women and children. Transitional housing programs, counselling, and outreach services form a continuum of care to help women and children live a life free from violence.
---

PADS
Click on picture for more info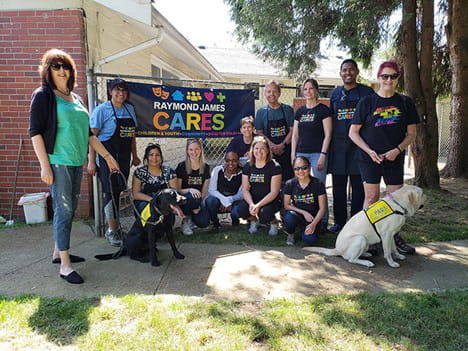 The Pacific Assistance Dogs Society (PADS) supports people with disabilities and community care providers by partnering them with certified assistance dogs. The Burnaby based charity breeds, raises, trains, and supports certified assistant dogs and partners them with people living with disabilities, and with community care professionals. In May 2018, our team had the privilege of volunteering with them and giving back to our local community in a positive way!