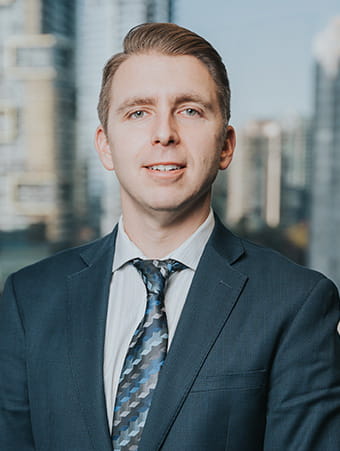 Derek Lacroix,
CFP®, CIM, BBA
Associate Portfolio Manager
Derek has established himself as the trusted family advisor for his clients. He builds relationships with his clients to understand their unique situation and explores the life goals and financial aspirations they want to achieve. He is skilled at identifying and implementing financial strategies that add value to multiple financial aspects of his clients' lives.
Derek partners with his clients to uncover problems they may not realize they are facing and although the strategies he helps implement can be complex, he presents them in a way his clients can easily understand.
Education
Derek is also a licensed portfolio manager
CERTIFIED FINANCIAL PLANNER™ (CFP®)
Chartered Investment Manager (CIM®)
Bachelor of Business in Entrepreneurial Leadership (BBA), KPU
Life Insurance Licensed
Accident and Sickness Insurance Licensed
Canadian Securities Course (CSC) and Conduct and Practices Handbook (CPH)
Experience
A CERTIFIED FINANCIAL PLANNER™ with 15 years of experience, Derek has extensive knowledge and planning strategies related to self-employed, incorporated professionals, and families preparing for retirement. He is licensed to provide life insurance, as well as accident and sickness insurance for his clients to help them minimize financial risk as it relates to their finances.
Personal Profile
Derek has lived in the Lower Mainland his entire life. He currently resides in Cloverdale with his wife, Pam and their three young children Luc, Mataya and Mac. Derek's personal interests include hockey, squash, golf and camping with his family.
The most widely recognized financial planning designation in Canada and worldwide, the Certified Financial Planner® designation provides assurance to Canadians that the design of their financial future rests with a professional who will put their clients' interests ahead of their own. CFP certification is considered the standard for the financial planning profession worldwide. CFP professionals have demonstrated the knowledge, skills, experience and ethics to examine their clients' entire financial picture, at the highest level of complexity required of the profession, and work with their clients to build a financial plan so that they can Live Life Confidently™.
The Chartered Investment Manager (CIM®) Designation builds the skills and experience we need to serve a more sophisticated financial client or institution. Financial professionals who hold the CIM designation are eligible for registration as a Portfolio Manager in Canada. They have expertise in providing money management services to high-net-worth and institutional clients, and they understand the application of portfolio management in the context of Canadian markets and regulatory requirements
What do these designations mean for you? They mean that when you work with an investment consultant who has taken the time to complete these designations, you're working with someone who is well-versed in modern concepts of investment advice, is educated enough to understand how your individual investments are being managed and how they work together – no matter how complex it may be. These skills, along with a commitment to advanced education, enable them to provide you with the kind of service that you not only want, but deserve.